Alderney politician slams Guernsey committee over island air links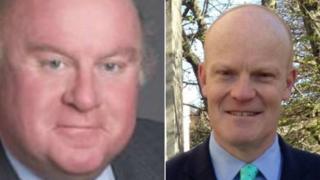 Alderney's top politician has hit out at a Guernsey committee over its handling of the island's "pure comedy" air links.
Robert McDowall has written a "letter of frustration" to Guernsey's most senior politician, Gavin St Pier, about the service provided by government-owned airline, Aurigny.
He claims "mishaps" on the service are damaging Alderney's economy.
The States of Guernsey said it would review the letter before responding.
A spokesman said: "We continue to work closely with the States of Alderney and Aurigny, and remain committed to supporting both with ongoing work on the Alderney services."
The airline said it would not be commenting.
'Come out of bunker'
Mr McDowall, who is the chairman of Alderney's Policy and Finance Committee, claims logistical and operational problems on the air service have worsened since Aurigny replaced its Trislander aircraft with Dornier aeroplanes.
He says the errors would rank as "pure comedy" if they were not affecting passengers lives, businesses, and finances.
He calls for Deputy St Pier's committee "to come out from its bunker and provide leadership in addressing the issues".
In his letter Mr McDowall goes on to claim that if problems with the air service persist, "the matter will receive media focus from the UK".
In February the Channel Island airline survived a vote of no confidence signed by four Alderney States members who were dissatisfied with the air service. Mr McDowall was one of those who signed the motion of no confidence.
Some islanders have not been happy with Aurigny's decision to use Dornier aircraft, claiming it has adversely affected the service to and from Alderney. However, the airline maintained the Trislanders were no longer fit for purpose.