Guernsey war memorial move plans withdrawn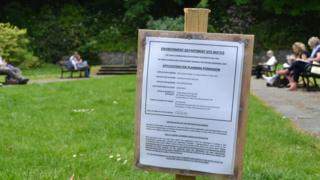 Plans to create a piazza and move the Bailiwick of Guernsey War Memorial have been withdrawn amid public opposition.
A petition was set up and a protest staged at The Sunken Gardens after the plans were submitted last month.
The plans from a private organisation were submitted by a States department in a show of support.
The committee, which replaced the department in late May, has now decided to withdraw its sponsorship and the plans.
Deputy Paul Le Pelley, President of the Committee for Education, Sport and Culture, said: "Having had the opportunity to discuss it, members of the new committee... decided against continuing with the sponsorship of the proposed development.
"The committee recognises that the private group behind the plans are able to re-submit the application independent of government sponsorship, and believe that is the most suitable avenue for these proposals.
"We wish them well with their endeavours."
The BBC has approached the private group for comment.