Apology over 'unprecedented' Jersey to Guernsey flight disruption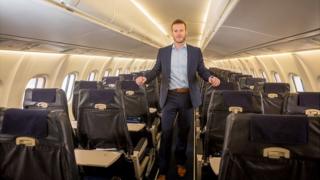 A Channel Islands airline has apologised for an "unprecedented volume of disruption" on flights between Guernsey and Jersey.
Blue Islands, which operates the flights on behalf of Flybe, said it was "working hard...to mitigate against the risk of any future occurrences".
It said in June the "worst fog disruption in many years" had combined with issues with aircraft.
The authorities in both islands have expressed concerns about the problems.
Jersey is due to meet the airlines in the next two weeks, but Guernsey is yet to have confirmation of a meeting.
Senator Lyndon Farnham, Jersey's Economic Development Minister, said the "increasing amount of dissatisfaction" was concerning with the majority of complaints about delays and failing reliability coming from the business community.
Mr Farnham said: "I'd like to offer any assistance or help I can to address the issues as soon as possible."
Deputy Jan Kuttelwascher, Vice President of Guernsey's Economic Development Committee, said it had approached both airlines but was yet to have a meeting confirmed.
He said: "I don't think talking to them will necessarily address very much because we are the last in the line of a large network of services and we can expect therefore to suffer disruptions, cancellations and everything else."
Rob Veron, Blue Islands' managing director, said in June there were 15 days of adverse weather, compared to one in June 2014 and six in June 2015.
He said: "In total, January-June 2016 has already seen 40 days affected by weather, a significant increase from the same period in 2014 and 2015 which saw disruption on 29 and 32 days respectively.
"Further adding to this weather disruption, we have regrettably been let down by an aircraft lessor who was due to deliver a further ATR aircraft.
"Unfortunately this, together with unforeseen technical issues with other aircraft within the fleet, has further compounded the effect on our operational performance."