Guernsey kerbside recycling to continue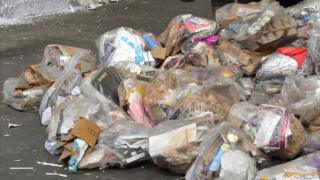 Kerbside recycling in Guernsey will continue until at least the end of 2017.
Questions had been raised about the future of the service as no government funding had been agreed beyond September.
Three of the 10 parish authorities, responsible for the collections, had said without the central funding they would not continue the service.
The £1.3m for the scheme will come from waste tipping charges at Mont Cuet.
The island's only landfill has a life expectancy of less than 10 years with waste due to be shipped to Sweden from 2018.
In its first year an extra 420 tonnes of paper, cardboard, tins, plastics and cartons were collected.
Kerbside recycling
No charge for bags until 2018 - they were due to be introduced in 2016
Householders will continue to pay for service through parish rates
Paper, cardboard, tins, plastics and cartons will continue to be collected
Glass "unlikely" to be included in scheme until after 2017
No details of when food waste could be included
The current scheme was introduced in March 2014 and trial glass collections have been carried out in areas of St Peter Port.
States Trading Assets said any extension was "unlikely until post-2017, when the full, permanent collection arrangements are introduced".