Guernsey waste export station's plans approved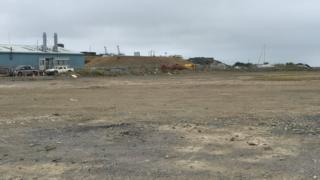 Plans for the buildings and infrastructure needed to export waste from Guernsey have been approved by politicians.
The site at Longue Hougue will include a waste transfer station, household waste recycling centre, a 66ft (20m) high chimney and two weigh bridges.
The plans were unanimously approved by the Development and Planning Authority.
Work is due to start at the site next year with it expected to start operating in 2018.
In April the States agreed to turn waste into refuse derived fuel before exporting it to Sweden.
The site is expected to handle more than 32,500 tonnes of waste each year.
Guernsey waste strategy
Household rubbish and recycling continues to be collected from the kerbside
It will be treated alongside commercial waste
Waste will be shredded and metals removed for recycling
The remaining material will be formed into cube-shaped bales, about 3ft (1m) square, and wrapped in plastic film
The bales will be put in sealed shipping containers - with storage for 180 containers