Isle of Man literary prize honours novelist Hall Caine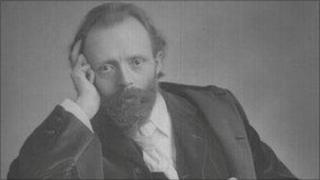 A literary prize for Isle of Man students has been introduced in memory of island novelist Sir Hall Caine.
The Hall Caine memorial prize for creative writing will be awarded each autumn and offer a top prize of £150.
School students can submit a short story, memoir, one-act play or the opening chapter of a novel.
The family of the novelist, who made his name with The Deemster in 1887, has funded the prize. Caine moved to the island in 1896 when he was in his 40s.
'Affect the world'
Gloria Rukeyser, who is a great-granddaughter of Sir Hall Caine and also a writer, said: "In an age when modern technology encourages us to communicate in a kind of electronic shorthand, it is crucial to preserve and protect the art of thoughtful storytelling.
"Each young person possesses a unique perspective and holds the potential to change the way the rest of us think.
"In fact, through his or her well-crafted, engrossing and original creative writing, a student has the power to affect the world - perhaps even to improve it."
The award, which will be made in three age categories, will be judged by Ms Rukeyser and Manx teachers and journalists.
The closing date for entries will be 19 November.
Hall Caine was born in Cheshire in 1853, but moved to the island with his wife Mary and their family in 1896, purchasing and restoring Greeba Castle, which remains in the family today.