Row the Rock Viking boat team smash Isle of Man record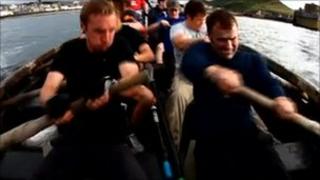 A team of Manx men have made it into the record books after rowing non-stop around the Isle of Man in a Viking longboat.
The 15-strong crew completed the 90-mile challenge in 25 hours and 21 minutes - beating the record set in 1995 of 27 hours.
Hundreds of well-wishers lined Peel breakwater to cheer the Row the Rock crew back to land.
They believe they have raised thousands of pounds for local charities.
Organiser Andy Mulhern said: "I never doubted it for one second. The commitment those guys had was phenomenal.
'Couldn't move'
"I knew from the very start that they were going to get us round there.
"The weather was very favourable to us and we managed to beat the 15-year standing record.
"We hit against the tides going down the east coast and we were only plodding along at about a knot. It was dark and we weren't getting anywhere quickly.
"We weren't enjoying it but we all pulled together, had a laugh and a joke, and before we knew it we'd passed the tricky spot and were on for the record."
Team member Richard Trubshaw said: "We had been doing an hour on, half an hour off - taking it in turns to row - but for three-and-a-half hours at the end we decided to just go for it, give it our maximum.
"Everyone clubbed in and people were sick and couldn't move at one point, but we made it through with team work."