IOM fiddler through to semi-finals with a winning waltz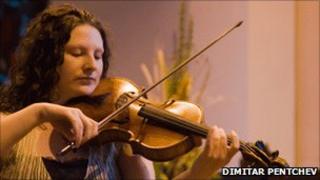 Manx fiddler Laura Rowles has impressed competition judges with a waltz she composed for her father's wedding.
She has beaten off a record number of entries to get a place in the semi-final of the 2010 Amber Fiddle Award.
She will now play her composition, Sheena's Waltz, for some of the top names in the business.
Aly Bain, Ale Moller and Bruce Molsky complete the prestigious judging line up at the next stage of the competition in Perthshire.
Three finalists will then be chosen to perform in the final on 5 November for a concert featuring Dougie MacLean and Irish band Grada.
Rowles said: "I really enjoy writing tunes for the fiddle as it's such an expressive instrument and I'm really excited about performing the waltz at the semi-final."
The Amber Fiddle Award is an international event to encourage creative fiddle composition.