Island gritters on snow standby ahead of icy weather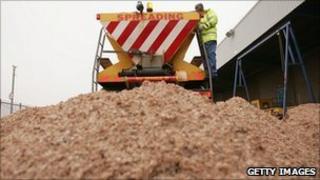 A fleet of salt gritters are on standby in case of icy weather, according to officials at the island's department of transport (DoT).
The five bulk gritters are ready to be deployed after forecasters predicted icy weather and snow on higher ground.
There are also 10 other vehicles which can accommodate snow ploughs if the weather deteriorates further.
Alan Harding from the DoT said: "If we have a frost warning we get the gritters out the evening before."
He added: "We have more than enough salt, we took a delivery of 12 hundred tonnes about a month ago".
In an average winter the department gets through about 1,700 tonnes of salt but last year was exceptional with gritters putting down some 3,500 tonnes of salt on Manx roads.
Forecasters have predicted some snow for higher ground in the Isle of Man this week.
In areas 1,000 ft above sea level, road conditions could deteriorate in poor weather before the weekend.