More than 130 potholes reported in Isle of Man in week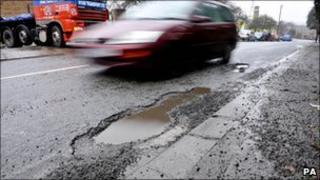 Residents have reported more than 130 potholes on Isle of Man roads in the past week, the government has said.
The Department of Infrastructure (DoI) asked islanders to report any potholes after the recent snow and ice.
They develop when water trapped in and under the road surface freezes and expands, causing the road surface to break up.
The DoI has now assigned 10 teams of workers to try to repair the holes, a spokesman said.
Infrastructure minister Phil Gawne said: "The public's response so far has been fantastic and, although it will take many months to get the roads back into a reasonable condition, we believe that the majority of the public appreciate the scale of what has to be achieved."
He added: "The department would like to remind drivers that they need to take account of the poor and unexpected road conditions when driving.
"Accidents have already been reported where drivers may not have taken full account of the conditions."