Motorbikes 'obliterating' tracks says environmentalist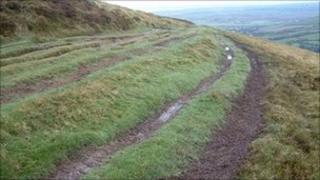 An environmentalist is calling for motorbikes to be banned from all off-road tracks on the Isle of Man.
Richard Crowhurst, from the IOM Woodland Trust, said: "The Millennium Way has survived for 4,000 years and now it's being utterly obliterated."
Thousands of riders visit every year to use the tracks because scrambling is banned in many areas of the UK.
But Mr Crowhurst said that once the heathland was wrecked it could take hundreds of years to grow back.
'Four lane motorway'
He added: "Riding bikes along our green ways is not something that can be accepted anymore, the level of damage is unsustainable."
There are some 117km of unsurfaced road on the island of which 24km are upland trails.
The most sensitive tracks are closed in the winter months but are due to re-open in April.
"The bikes go up onto the hills in large numbers, around 50 at a time and create large ruts in the ground. As more bikes use the path the damage spreads onto the heath and uplands," Mr Crowhurst said.
Campaigners say that one track south of Sky Hill has a strip of damage as wide as a four-lane motorway.
Motorcycle groups say the scale of the damage has been blown out of proportion.
Stephen Collins, from the Southern Motorcycle Club, said: "We only have 20 miles of upland tracks that we can ride on. That's a tiny amount of tracks compared to the number of footpaths open to walkers.
'Motorcycling nation'
"If you ban motorbikes then you'd have to ban walkers too because they also damage and erode the mountain paths," he added.
"We are a motorcycling nation and these tracks are part of our heritage."
Motorcycle groups say they would welcome tracks being fenced to minimise the spread of damage, and are willing to help with repairs.
The Manx Government has spent £200,000 on repairing upland tracks over the last four years and has earmarked another £40,000 for work this year.
Phil Gawne, Minister for Infrastructure, said: "All bikers who use upland tracks need to know if damaged areas continue to grow then we could have to introduce prolonged closures."