Isle of Man's bid to tackle youth drinking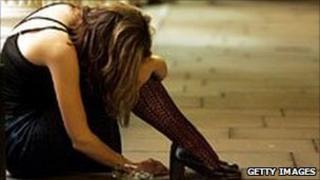 "There is nothing else to do and we can't get in and out of a pretty boring Douglas easily," said one Isle of Man 14-year-old, who asked to remain anonymous.
"We want somewhere we can go, where there is not, like, set activities to do, where we can chill with our friends."
In 2009, research revealed that Manx teenagers were some of the most prolific drinkers in Europe.
The European School Survey Project on Alcohol and Other Drugs (ESPAD) showed that 61% of teenagers drank to excess.
Later this year, a follow-up report will indicate whether the situation has improved or not.
Since the statistics were made public, the island has made strides to combat the problem.
Journalist Tanya Marie Hanson has been looking at the issue.
She asked a group of Year 10 students in Ramsey where they got alcohol from.
"Just from parents, out of the house," one said.
"You can stand on the street corners, people from the pubs will come out and get it for you. Some will even offer it to you."
Alcohol education in the Isle of Man is being rolled out more and more.
Shock tactics
Sitting in on a talk between the "Off-watch team" and a group of year 10 students, it is easy enough to see the work put in to the schools.
The method is brutal with shock tactics and case studies dispensed in equal measure.
Pc Steve Stanley, of the Douglas Central Alcohol Unit, spends the sessions talking to the students about his experiences in England when he dealt with teenage alcohol dependency and saw young people killed.
He said he was passionate about educating young people about the dangers of dependency.
Mr Stanley said: "It's getting more serious now, I mean, it's not long off into the future when they can legally drink. I know a few that have reached that age that have already formed an alcohol dependency."
But is all this education having any effect? The only real way to know will be when the follow-up results are published later this year.
"We have alcohol education talks twice a year now," said one 14-year-old.
"I think it's better that they are saying to be responsible for your friends, they're not saying don't drink, that would be a bit preachy."
The government's only real chance at addressing a youth binge culture appears to be the provision of low-cost centres to counteract teen boredom.
It runs youth clubs all over the Isle of Man in addition to theatre and orchestra projects, sound and lighting courses, Manx classes and homework clubs.
There is also a youth cafe in Lord Street, Douglas, and various under-18 activities throughout the year.
There are also a high number of sporting activities for youngsters to get involved in.