Fewer passengers at Isle of Man's Ronaldsway Airport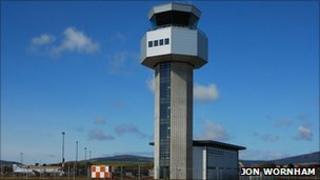 The number of passengers travelling through Ronaldsway airport in February fell by almost 2,000 compared with January 2011.
Over the same period Manchester passenger numbers fell by 16.5% and Birmingham passengers by 12.5%.
However Liverpool passenger numbers increased, with Flybe and Easyjet carrying more than 11,600 people.
Airport director Ann Reynolds said the demand for flights was taking longer than predicted to regenerate.
"Airlines operating some of our primary routes are still struggling to fill aircraft during this, the quietest time of the year, spring and early summer period will be a key time for us and will shape the likely outcome for 2011," she explained.
In January, Ronaldsway reported a passenger increase of 1,624, compared with same month in 2010.