The Isle of Man re-invents itself as family destination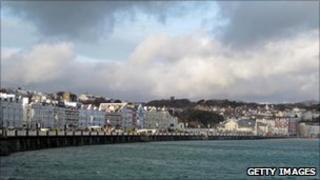 The Isle of Man government is attempting to re-invent the island as a family holiday destination.
In its heyday at the turn of the 20th Century, the island was a popular getaway for rich British families.
But now some tourists say the price of getting to the island is just too high.
The Holdsworth family from Cheshire visit family in the island every year and say it is cheaper to go on holiday to Europe.
Hayley Holdsworth said: "If we wanted to take the car, even off-peak on a five day deal, it works out at about £180.
"For a young family like ourselves it's a lot of money when you haven't even booked any accommodation."
'Staycation'
With its world famous horse trams and sweeping bay, Douglas Promenade once had a string of thriving guesthouses and hotels.
By the 1960s the island had become a popular destination for working class families from the north of England.
However, tourism now makes up just 5% of the Manx economy.
Many people who would have once visited the island have chosen cheap package holidays abroad instead.
But the Manx government say the island has re-invented itself in recent years, with a £1m television campaign launched in 2008 targeting families who want a more active holiday as well as cashing in on the rise of the 'staycation'.
Geoff Corkish, MHK, political member for tourism said: "The island is unique, accessible and there is a lot of safety, security and lots to offer families.
"The price may be putting people off but shop around and you can find a price that suits you.
"It's not always going to be the cheaper option, but it's not always going to to be the dearest either."
In 2008 about 200,000 tourists visited the island with an average stay of five nights, spending about £420 per head.
Limited market
Of those visitors just under 6% came from Yorkshire or Humberside and 37% from the North West.
The government is now hoping the island's 'uniqueness', cheaper family deals and the advertising push, will boost tourist numbers this season.
Brendan O'Friel, chairman of Travel Watch Isle of Man warned that short haul destinations were always going to be more expensive.
"It may be that if you can stuff a plane completely full of people and take them to a destination in the Mediterranean then they can afford to charge lower prices.
"The island has a limited market and the airlines and ferry companies have to make a profit so they're going to charge fares that will ensure they can do that."