Isle of Man FA's Railway Cup sent for repairs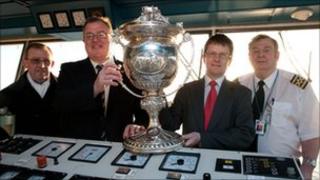 The Isle of Man Football Association's Railway Cup has been sent to a silversmith in England to be restored.
The trophy was presented to the Manx FA in 1925, replacing a previous one which dates back to 1905 and remains on display in its boardroom.
It was presented by the Railway Company to encourage islanders to travel on the railway to watch football matches.
It has been presented on or around Boxing Day every year since 1925 but now needs to be restored, the FA said.
'Finest trophy'
Isle of Man FA Chief Executive Frank Stennett said: "Over the course of time it has picked up a few knocks and bumps.
"It is without doubt our finest trophy and means a lot to both football fans and also railway enthusiasts.
"The silversmith at Sheffield Silverware who examined it said it is without doubt one of the finest trophies he has seen."
The cup was taken to England on the Steam Packet Company's Ben-my-Chree.
Mr Stennett added: "We appreciate the efforts of everyone at the Steam Packet Company who has assisted us on this project."