Isle of Man walking festival appeals for guides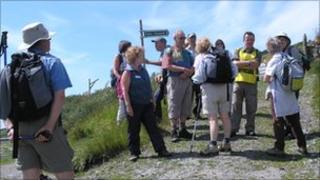 Organisers of the Isle of Man walking festival have issued their annual appeal for more volunteer guides.
About 200 people are visiting the island for the five-day event, which begins on 15 May.
Although 50 people have already volunteered their services the festival is looking for about 20 more to act as walk leaders and assistants.
The festival, now in its seventh year, has grown year on year and 2011 is set to be the biggest yet, said organisers.
Co-ordinator Mick Salmon said: "We are looking for anyone with a love, and knowledge, of the island in general.
"The leaders and assistants are asked many questions about the Isle of Man itself so we need people who are reasonably knowledgeable about our heritage and traditions.
"We are not looking for historians or specialist walkers - just local residents who have pride in their island."