Creations sought for Wearable Art Show in Isle of Man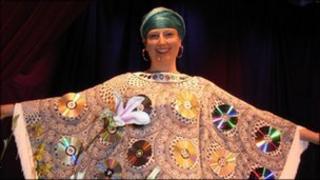 Individuals or groups with a flair for fashion or art are being asked to enter an outfit in a Wearable Art Show at the Strand Shopping Centre in April.
The art show will raise money for the Children's Centre on the Isle of Man.
The event's organiser Doreen Dixon said: "The show is open to anyone and any material can be used in your design."
The event will start at 1930 BST on Friday 1 April in Douglas.
Students from the Isle of Man College will be contributing to the show as part of a project.
Mrs Dixon added: "It only needs to be strong enough to survive the catwalk and striking enough to enhance the show. We want people to let their imagination run riot."
Wearable Art was started in New Zealand in 1987 and the Manx version has been held every year since 2005. This year the proceeds will be donated to the Children's Centre.
Michelle O'Malley, fundraising manager for The Children's Centre said: "We're so grateful for the support and we just hope the Manx community get behind the initiative to support them."
"On a personal note I'm also very excited to see what designs everyone comes up with so it's definitely one not to be missed," she added.
Tickets for the live catwalk show are now on sale at £6 from Modeltech at the Strand Shopping Centre in Douglas.