Manx government cuts will make railways 'stronger'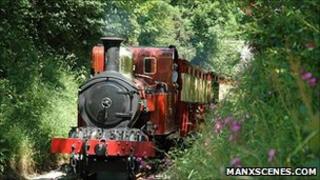 Government cutbacks will make the Isle of Man railways stronger in the long term, according to the minister for community, culture and leisure.
Department managers are currently working with trade unions to minimise redundancies among railway workers.
The Community Culture and Leisure department must make savings in the region of £900,000 in the coming year.
David Cretney said: "This process, painful though it is, will lead to the railways actually being strengthened."
A joint committee between railway management and trade unions has now been formed to look at ways in which department savings can be made.
Career advice
Mr Cretney said 95% of the department's budget went towards salaries, which left little room for manoeuvre.
Other areas which have so far survived cuts are Curraghs Wildlife Park, the play area at the Villa Marina and the cafe at the National Sports Centre.
Some railway staff are now being offered career advice in the hope they may be relocated into other government jobs.
Mr Cretney said: "I wouldn't want to place a figure on the amount of redundancies we could be looking at. I would like to minimise the number and that is an objective shared by the unions.
"This process will give us a more efficient organisation and so in the future, when the railways come up against front-line services such as health and education, we will be able to demonstrate we have already played our part in making savings."