Isle of Man post workers vote to strike in pay dispute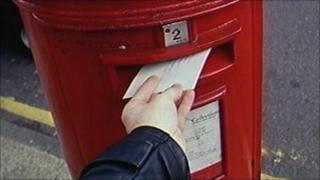 Manx postal workers have voted in favour of strike action, the Communication Workers Union (CWU) says.
According to CWU, which represents 250 workers, 84% voted in favour of industrial action.
The union is seeking a pay rise for its members despite a pay freeze across the public sector.
Chairman of Isle of Man Post Office, Alan Crowe said he was disappointed at the outcome but strike action would not change the freeze on public sector pay.
He added: "Strike action would be reckless and its only outcome would be damage to the business, jeopardising customer and public support for the Post Office and putting jobs at risk."
CWU assistant secretary Terry Pullinger said: "This is a compelling ballot result which sends a clear message to Isle of Man Post Office management."
He added: "We now urge the company to return to talks to resolve this dispute and avoid any strike action. It is the CWU's genuine hope that this ballot result brings about a fair deal without the need of recourse to industrial action."
CWU members account for just over half of the workforce at Isle of Man Post Office.
The post office said contingency arrangements to ensure minimal disruption to services would be put in place should strike action go ahead.