Call for taxi industry to 'engage' with government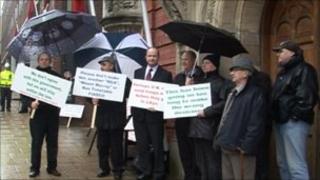 Island taxi drivers have been encouraged to "engage" with the government to help resolve long-standing problems within the industry.
Drivers are currently restricted to picking up fares within their licensing district, of which there are four.
Plans to allow cabs to operate all over the island were withdrawn after a driver protest outside Tynwald.
Infrastructure Minister Phil Gawne said he had now received a commitment from drivers to help resolve the issue.
He added: "I am going to establish a working party, the commitment I have had back from the taxi industry is that they will engage with that working party and help us come forward with solutions, because this issue has been dragging on for at least 10 years."
The all-island taxi proposals were drawn up after a public consultation showed that most residents were in favour of allowing drivers to ply for trade from anywhere in the island.
However taxi drivers argue the plans would encourage drivers to congregate in Douglas, leading to market saturation.
It is thought new proposals will be brought before Tynwald in either June or July.