Isle of Man police officer rewarded for 'compassion'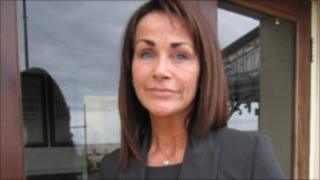 An Isle of Man detective has been awarded a certificate of merit for 'compassion and dedication' working with victims of sexual abuse.
Det Con Lesley Taylor's work during a recent case of historic sexual abuse on the island has also been commended by members of the legal system.
The detective said she was extremely happy about receiving the certificate.
She added: "It's just part of my job - I joined the police because I wanted to help people, it really is that simple".
"In this field you are dealing with people who have come forward to speak to the police. There are lots of different outcomes, sometimes people just want to talk because that in itself can act as closure for them."
'Burden lifted'
After consultation with an officer such as Ms Taylor, some victims decide to go ahead with court action, which can be a lengthy but ultimately rewarding process.
"If you do get the result in court then a burden is lifted and people feel they can finally get on with their life once again. You can see the difference it makes to them and of course it feels good to have been able to help," she said.
The intensity of preparing victims for a court case means that police officers get to know people extremely well but Ms Taylor said you have to be clear about the police role.
She said: "We are not counsellors but we can put people get touch with other agencies to give them the help they need. Ultimately my job is to keep people strong and reassure them that the criminal justice system will hopefully have the positive outcome that they want".