Isle of Man prisoner arts exhibit at college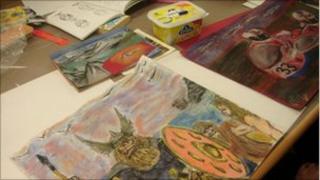 Paintings, craft and writing by prison inmates are to go on display at Isle of Man College during April.
More than 100 pieces completed during creative classes at Isle of Man Prison will be on view in the college's main hall from 7 to 15 April.
Some of the work was specifically created to decorate the prison's multi-faith room.
Arts classes at the prison are taught by college tutors and are designed to be therapeutic and inspire confidence.
Prison education manager, Judy Jackson, said: "We have some excellent artists in custody and it is satisfying to be able to show what they have achieved."
Prison Governor Alison Gomme will open the free exhibition.
She said: "Although prisoners can pursue qualifications, these classes are mainly aimed at being therapeutic and artistically satisfying.
"It gives participants a sense of achievement and builds confidence. This exhibition is a celebration of what has been achieved over the last couple of years and could be repeated in the future if it is well received."