Manx government fined over ferry worker's injury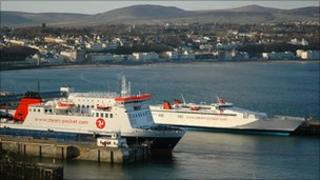 The Manx government has been fined £16,000 following an accident in which a ferry worker fell through a broken grating and gashed his leg.
The accident happened in August 2010 as the man was letting go of the mooring ropes of a ferry in Douglas Harbour.
The Department of Infrastructure pleaded guilty at the Isle of Man court to two health and safety offences.
The Steam Packet Company worker has since returned to work. The department has apologised for what happened.
'Badly cut'
The Isle of Man court was told that the ferry worker was on King Edward Pier on 25 August 2010 as the Steam Packet fastcraft, the Manannan, was leaving harbour.
As he stood on a steel grating it gave way, causing one of his legs to fall partially through leaving him "badly cut".
The department pleaded guilty to two charges brought on behalf of the Health and Safety at Work Inspectorate (HSWI).
An inspection carried out in March 2010, five months before the accident, failed to highlight any problems with the faulty grating.
Immediately following the incident, there was a further inspection of the pier and repairs were carried out.
The Department of Infrastructure is responsible for maintaining the island's highways network, harbours and port facilities, planning and building control and key government buildings.
A department spokesman said it "very much regretted that the accident occurred and apologised for the injury and inconvenience sustained".