'Big society' trust set up by church in the Isle of Man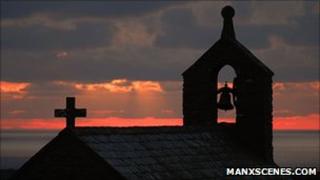 A "big society" trust has been set up by the church to work with deprived communities across the Isle of Man.
The Sodor Partnership brings together the business world with voluntary, government and church groups to develop community-based projects.
The first phase of the scheme will concentrate on projects in Douglas and Jurby, in the north of the island.
The Bishop of Sodor and Man, the Right Reverend Robert Paterson, said: "If we don't start developing our own communities then I think we're in for bleak times in the future.
"People constantly feel that nobody cares about them - if we're not careful we may breed a generation of people who don't have any sense of hope and that's a dreadful thought," he said.
"If we get this right - then it could do a lot of good."
Isolated
The partnership draws on Prime Minister David Cameron's "big society" idea and encourages voluntary groups to work with the Manx government on community projects that they can no longer afford to fund themselves.
Douglas Town Centre Partnership would see local businesses, government and the church working together to develop schemes targeted at young people and families.
Bishop Paterson said: "Douglas has three major problems. Firstly youngsters with nothing to do on a Friday and Saturday night who get themselves into trouble.
"Then there are young, single mums living in sub-standard bedsit accommodation as well as elderly single or widowed people who are increasingly isolated.
"We want to be able to help them by developing some kind of drop-in place, whether its just somewhere to go and chat or somewhere they can develop skills or get help," he said.
The partnership, which is affiliated with the Archbishop of York's Youth Trust, will be run by trustees appointed by Bishop Paterson. These trustees will allocate funding to particular projects and channel business expertise to where it is needed.
'Badly neglected'
But the whole project is reliant on forging links with local businesses and encouraging philanthropy.
"We haven't got the spare cash to fund things like this but there are plenty of wealthy people on the island who do.
"We're trying to say to those people - 'we not asking you to fund the church, we are asking you to fund these projects that we can't afford to do without your help'."
The second part of the project focuses on developing community groups in Jurby and eventually extending the project island-wide.
Bishop Paterson said Jurby had been "badly neglected" over the years and "feels desolate and remote".
"All the island's churches are working in that area trying to find a way forward for the community - to bring people together."