Select Committee TV licensing report due in July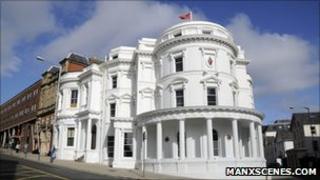 A parliamentary committee tasked with investigating the value derived for the Isle of Man from the BBC Licence Fee is due to report back in July.
In 2009 Tynwald voted to set up a committee to decide whether the island receives value for money from the BBC.
On 28 March it was confirmed the report would be completed by July.
Island residents pay a licence fee of £145.50, the same as those in the UK, but there is no island-based BBC local radio station.
North West Tonight, based in Manchester, provides the island's regional television news and the BBC Isle of Man website carries Manx news, video and features.
'iPlayer blocked'
BBC Jersey and BBC Guernsey employ 51 journalists in TV, radio and online, compared with three on the Isle of Man.
The March select committee meeting heard evidence from the chairman of the communications commission, MHK Adrian Earnshaw, and the director of the communications commission, Dr Carmel McLaughlin.
When asked if the commission felt the Isle of Man received a good service from the BBC, Dr McLaughlin said the Isle of Man should be mindful of what the island could lose should the committee recommend that islanders withdraw from the current licence fee arrangement.
She added: "Transmission could stop and we could be blocked from using the BBC iPlayer but that is not to say we shouldn't encourage the BBC to provide more services to the island."
Mr Earnshaw said he remained "fairly comfortable with the status quo" but hoped the BBC would provide more Isle of Man coverage for a wider audience.