Camping permit system introduced at Sulby Claddagh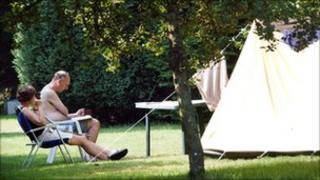 A camping permit system is being introduced in the north of the Isle of Man to help protect Sulby Claddagh.
Anyone intending to stay overnight will now have to get a permit from the Department of Environment.
The permit, valid between 1 May and 30 September, allows a maximum stay of up to 14 nights.
Government staff will issue permits and answer queries at the Sulby Community Hall on Saturday 9 April between noon and 1500 BST.
Permits will also be available from the environment department's Offices in St Johns on receipt of proof of identification.
John Shimmin, Minister for DEFA, said: "The department has endeavoured to improve the management of the Claddagh in recent years and asks the local community to respect and support this latest initiative."
Moves to restrict camping numbers at the popular Isle of Man beauty spot were taken in Summer 2010 when new by-laws were introduced by the Isle of Man government.