Jeremy Clarkson's fence and gate vandalised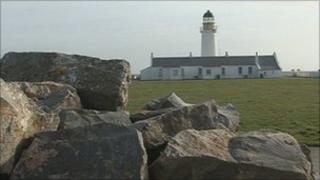 Vandals have uprooted fence posts and a gate near the Isle of Man home of BBC Top Gear presenter Jeremy Clarkson.
The posts were then thrown from the cliff on to rocks below the beauty spot of Langness.
Wire fencing has also been cut away from around the perimeter of Mr Clarkson's holiday home.
The peninsula became the subject of controversy after ramblers complained Mr Clarkson had diverted a footpath.
He claimed there had never been any public right of way across the land.
The row is currently being dealt with by the High Court and no final ruling has been made.
The Isle of Man Coastguard was called to the scene to retrieve the broken gateposts from the rocks.
Sgt Rosie Hawes, of Isle of Man police, said: "From a policing point I would say that no person has the right to damage any property not belonging to them.
"This area is well used by the public for recreational purposes and I would urge anybody who may have seen anyone causing damage in the area or who has any information in relation to this matter to please contact me at Port Erin Police Station or speak with any police officer."