Top Gear's Jeremy Clarkson 'shocked' by vandalism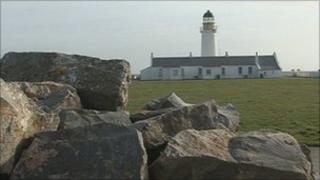 Top Gear presenter Jeremy Clarkson and his wife Frances say they are 'shocked and saddened' by recent vandalism near their Isle of Man home.
A gate and fence posts were uprooted at the Langness peninsula on the south coast of the Isle of Man.
Wire fencing was also cut away from around the perimeter of the property.
A statement from the couple said: "We have been shocked and greatly saddened by the recent acts of criminal damage on our land at Langness."
They added: "Every piece of property attacked relates to land currently the subject of ongoing legal action before the High Court in the Isle of Man.
'We don't want to comment on the ongoing court case but we would say to those who have again targeted our home at beautiful Langness - please, just stop this right now."
The peninsula became the subject of controversy after ramblers complained Mr Clarkson had diverted a footpath.
He claimed there had never been any public right of way across the land.
The row is currently being dealt with by the High Court and no final ruling has been made.
The Clarkson statement continued: "Whoever ripped up the fence posts and gate protecting the cliff edge - then throwing them over the edge - clearly had no thought for the safety of others.
"We'd urge anyone with information about what happened here to come forward and help Port Erin police with their criminal investigation."