Ballafletcher sports facility set to open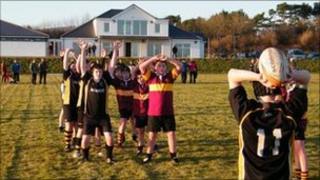 A £2.4m sports facility at Ballafletcher in Braddan will be officially opened on Saturday.
Leisure minister David Cretney will be joined by invited guests to open the facility, which includes rugby, football and cricket pitches.
The project was partly financed by a grant from the Football Foundation.
Chief Executive Paul Thorogood said: "We are delighted that the clubs and the local community will have access to these fantastic new facilities."
'Decade of work'
Launched in July 2000, the foundation celebrated its tenth anniversary last year and has so far supported some 8,000 community sports projects worth £947m.
The development includes four full size sports pitches designed for rugby and football on two engineered and drained platforms. The top platform also incorporates both synthetic and grass cricket wickets.
David Cretney MHK said: "The provision of new pitches in the east of the island was identified as a priority in the Isle of Man Sports and Recreation Strategy 2002 to 2012 and the opening marks the culmination of a decade of work.
"It shows what can be achieved by teamwork, with both government departments and sports clubs working together to make it happen. I hope and believe it will play a major part in sporting fixtures for many years."
Use of the sports pitches at Ballafletcher has already been allocated by Isle of Man Sport to Vagabonds Rugby Union Football Club , Corinthians Association Football Club and Douglas Royal Association Football Club.