Isle of Man post workers set to strike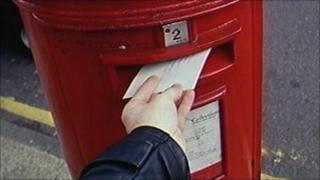 Postal workers on the Isle of Man are set to take their first strike action in a row over pay.
The Communication Workers Union (CWU), which represents 250 workers, is seeking a pay rise for members despite a pay freeze across the public sector.
It said members will walk out for 24 hours on 12 April unless talks due to take place this week resolve the issue.
Post Office Chairman Alan Crowe said he and his colleagues were "disappointed" over the strike action.
He has previously said the Post Office will not budge on the public sector pay freeze.
Postal workers voted by more than eight-to-one in favour of strike action.
The union said it had waited three weeks after the ballot in the hope a deal could be reached but accused the Isle of Man Post Office (IMPO) of refusing to negotiate.
Terry Pullinger, CWU national official, said: "We've been left with little choice but to press ahead with strike action.
"IMPO's chairman has refused to speak to us, so we're very concerned about whether the meetings this week will be meaningful or whether the company will send a negotiating team which cannot resolve this dispute."