The deadline for 2011 Parish Walk entries is looming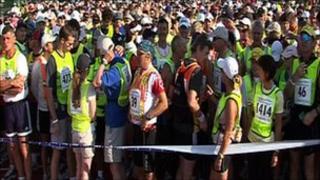 Organisers of the Scottish Widows Parish Walk are expecting over 2,000 people to start the 2011 event in June.
With so much interest in the annual walking challenge, organisers are urging competitors to register well before the impending deadline of Sunday, 15 May.
Organiser Ray Cox says the interest in this year's event is incredible.
"If you wish to compete, or just take part and have some fun on the day, please get your entry in as soon as you can.
"Unfortunately, due to the high numbers involved, we are not able to accept late entries," he said.
Competitors have 24 hours to complete the 85-mile course, which visits all 17 parish churches around the island and finishes on Douglas Promenade.
2010 winners Jock Waddington and Susan Moore are both looking to defend their titles this year.
Over 1,700 walkers signed up with 133 finishing the full distance, within the time limit.
This year organisers are predicting over 2,000 walkers will line up at the National Sports Centre in Douglas to take on the challenge.
Many competitors also enter for the fun of it, although it is a recognised competition and is subject to standard race-walking rules.
Entrants have the option of finishing at any stage but typical targets are Rushen after 19 miles or Peel after 32 miles.
Mr Cox continued: "It is a great day and the whole island seems to come out and support the competitors. It is a real community event."
The 24-hour walking challenge will start at 0800 BST at the National Sports Centre in Douglas on Saturday, 25 June.