Snowboarder Zoe Gillings' firm to fund Olympic dream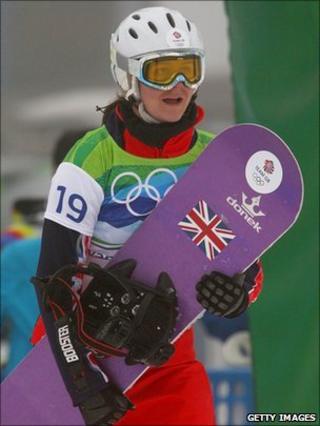 Since her courageous eighth place finish in last year's Winter Olympics in Vancouver, Manx snowboarder Zoe Gillings has had to overcome injury, funding cuts and the collapse of her sport's governing body.
Despite a string of impressive results, including a seventh place finish at the SBX World Championships in La Molina, Spain, the British number one was left with two options, give up or find the money elsewhere.
The 24-year-old chose the latter and the girl from Arbory has turned entrepreneur, to keep her Olympic dream alive.
On Wednesday, she launched her latest business venture, which offers consumers the chance to take advantage of special online deals on the Isle of Man.
The double Olympian told the BBC: "I've been extremely lucky in my career so far and during travelling to competitions around the world, I've noticed many successful business models that for whatever reason never make it to the island.
"The business has been set up to offer benefits to Manx businesses and consumers alike so it's great to launch it at home," she added.
The former gymnast started snowboarding when she was just 10.
She said she is now facing a total cut in her funding.
"For the last few years I've received world class funding from UK sport, the bulk of which goes into my programme.
"It pays for travel, my coach, his travel, a physio and that type of stuff. It is very expensive to compete at this level. My funding has now stopped completely and I've got to find the funding elsewhere."
Olympic medal
A spokesman from UK Sport said: "The decision is not about one individual, it is about investment into sports that demonstrate they have both the athletes either capable of medalling or on an upward trajectory to medal and, importantly, a system in place that is capable of producing future Olympic and Paralympic medallists."
Despite the decision, Gillings remains positive: "I hope all the politics can get sorted and my funding gets reinstated but who knows what's going to happen.
"With the business I am trying to be proactive and see what I can do myself to raise the funding myself. I still want my Olympic medal."
In 2006, she finished 15th at her first Winter Olympics in Turin, four years later she achieved an eighth place finish in Vancouver, despite a painful knee injury.