Isle of Man features in BBC Domesday project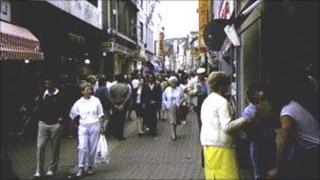 The Isle of Man will feature in a BBC Domesday Project spanning the whole of the British Isles.
The initiative was launched in 1986 when the BBC asked a million people to contribute to a digital snapshot of Britain, the data was submitted as pictures and text.
Now that material is being made available for Domesday Reloaded, the sequel to the 1986 project.
Revisit the past
Twenty five years on, island residents are being invited to revisit the past and help update the Isle of Man archive.
By exploring the images and articles from the original project you will be able to see how much has changed, and how much has stayed the same.
Douglas, Laxey, Ramsey and Sulby are just a few of the areas which were documented back in 1996 and many interesting facts were recorded.
For example, did you know that in 1986 people were worried about the diminishing Manx culture?
Much work has been done in this area over the past few years and culture, especially the Manx language, has experienced an unexpected and welcome revival.
Other contributors from 1986 give a fascinating account of island farming, the life of a house wife and the daily routine of school children.
The BBC is inviting more contributors to get involved and help document how island life has changed over the past twenty five years.
If you would like to include some of the changes you are aware of, you can visit the Domesday Reloaded website, search for the Isle of Man and upload your updated images and information.