Isle of Man MHK's nursery discrimination claim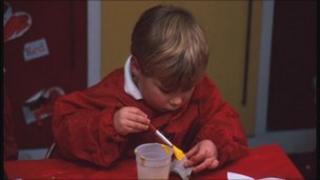 Nursery school admissions "discriminate" against Manx children, according to a Douglas politician.
Bill Malarkey claims children whose first language is not English are given priority places in state nurseries.
Education Minister Eddie Teare said the admissions policy was changed in 2009 due to a United Nations charter.
He added: "This gives priority to those with a wide range of special education needs including children for whom English is an additional language".
He added: " The sooner we can develop these young people's language the sooner they can be integrated into the school system; we need to look at it from an holistic point of view".
'Manx rights'
Bill Malarkey (MHK) questioned whether giving priority to a child whose first language is not English, is "actually discriminating against other children who have Manx rights as born citizens".
Mr Teare said reviewing this policy could mean the island would be out of step with both the UN charter under the rights of the child and an Early Years statutory framework, but agreed to take advice on the issue.
The Isle of Man government spends about £200,000 annually on teaching English as a second language in schools.