Simon Campbell nominated for British Blues Award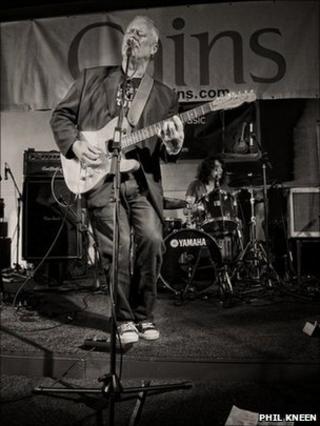 Isle of Man based musician Simon Campbell has been nominated in the best male vocalist category at the 2011 British Blues Awards.
Campbell has been shortlisted as one of six singers in the fiercely competitive category, which is nominated and judged by blues fans.
The singer-songwriter said it was a tremendous honour to have his music recognised.
"I am absolutely delighted to be shortlisted for a British Blues Award. Music is what I love doing and to have fans saying they like it means the world to me.
"There are so many talented artists in the UK, so to be shortlisted in the top six, is amazing."
Debut solo album
The 53-year-old musician moved to the island with his wife Angela in 2008 and launched his debut solo album, ThirtySix, at the Peel Centenary Centre in March this year.
He said his album represented a cross section of styles that had influenced him over the 36 years that he has been playing the guitar.
"It is blues, rock, acoustic with a hint of jazz", he said.
"The nominations were named before I launched the album, so that wasn't a factor in this award.
"I love performing live and over the years I have built up a fan base, plus I am very proactive in promoting my music through the web and on social media sites."
Originally from Manchester, the father of two first picked up a guitar at the age of 16 in the hope of attracting women.
"I was listening to bands like Led Zeppelin, Wishbone Ash and Deep Purple and, after seeing them live, I knew music would be my vocation."
'Creative inspiration'
When asked to define his style, he said it was difficult to judge.
"I do a lot of session work as well as my own material and people hire me for my arrangements, and clean, fluid guitar sound.
"Moving to the Isle of Man has provided me with plenty of creative inspiration and a fantastic lifestyle to create music."
Steve Rowe, of Mr Campbell's band the Very Very Bad Men, has been nominated in the best bass player category.
Both musicians have made it through to the second round of voting, where votes are reset.
The winner of each category will be announced at the Newark Blues Festival launch night on Sunday, 11 September.