Isle of Man air passenger numbers rise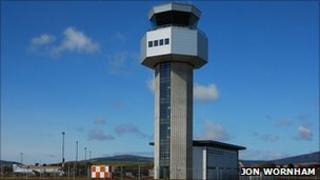 Air passenger numbers to the Isle of Man have increased by 25% in a year, according to latest figures.
Ronaldsway airport has seen a reversal in the global downward trend, with the rise since April 2010, amounting to an increase of 57,400 passengers.
Airport director Ann Reynolds said she was pleased about the rise but figures were still lower than forecasts.
Among the issues affecting the aviation industry in 2010 were the Icelandic ash cloud and the freezing winter weather.
"What we would like to see is a more robust recovery within the air transport industry, and in particular, a return to the growth that we were beginning to experience at the end of last year," said Mrs Reynolds.
The latest figures show the Liverpool route experienced the biggest increase, with a 75% rise in passengers, amounting to 13,000 more people using the Flybe and Easyjet services.
Glasgow produced a 34% increase and Birmingham was up by 31% with Belfast City recording a 42% rise in passengers.
Infrastructure Minister Phil Gawne said: "The important thing for the island is that we continue to try to ensure that we are able to offer both residents and visitors not only good value air fares, but the broad range of destinations that we have built up, together with the best possible frequency of flights".