Isle of Man awards 'highest honour' for conservation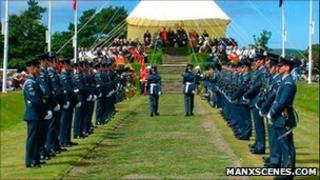 The Isle of Man will award the 2011 Tynwald honour to Thomas William Cain for his efforts in conservation.
Mr Cain will receive the tribute after the annual Tynwald Day service in St John's Chapel in July.
The announcement was made in the May sitting of Tynwald by Speaker of the House of Keys Steve Rodan.
Mr Rodan said: "Mr Cain is also the Honorary Chairman of the Island Branch of the United Nations Association and his work cannot be understated".
He added: "He is respected for his study of and articles on constitutional reform and his significant contribution to Manx Wildlife both on the Isle of Man and the surrounding Irish Sea".
Mr Cain is a founder member of the Manx Wildlife Trust and was the chairman of the organisation for 36 years until his retirement in 2010.
He played an important part in the introduction of the 1990 Manx Wildlife Act, which established the principles of protecting many listed species of animals and plants.
Previous recipients of the Tynwald honour include the artist Norman Sayle, farmer and journalist Harvey Briggs and Manx language expert Brian Stowell.
One of the criteria for the award is that the the recipient must be motivated by promoting the quality of life in the Isle of Man.