Isle of Man TT road safety campaign launched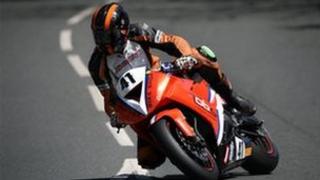 A campaign to promote road safety during the 2011 Isle of Man TT Races has been launched at the Creg Ny Baa.
It features a series of TT biking images with the strap line, "Meet your mates, not your maker".
The government says it has chosen to focus on the social side of the festival while reminding visitors about the importance of safe riding.
Deputy Chief Constable Gary Roberts said: "Unfortunately not everyone who comes to the TT will get to go home."
He added: "I pause at this time of year to remember those who lost their lives outside of racing on our roads and those who went home with life-altering injuries".
TT road safety advertisements will be broadcast on local radio stations and will include strong anti-drink-driving messages.
A number of modifications to the roads will come into force for the duration of the races to improve safety.
A one-way system on the Mountain road is being re introduced for the duration of the festival and there will be an increased police presence on the roads.