Isle of Man Mountain Course celebrated in exhibition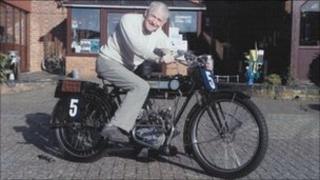 The centenary of the Isle of Man's Mountain Course is to be celebrated at a new exhibition.
Manx National Heritage is hosting the exhibition, in the Manannan visitor centre in Peel, from 28 May until the summer of 2012.
Mountain Milestones charts the story of the historic 37.75 mile (60.75km) motorcycle racing circuit.
Memorabilia from famous competitors, including leathers, T-shirts, helmets and trophies, will be on display.
The Humber motorcycle - ridden by Percy Evans who won the first race held on the mountain in 1911 - will also be on show. It is on loan from the Sammy Miller Museum Trust.
Other exhibits will include a medal awarded to a long-serving special constable who was on duty at the TT every year, nursing memorabilia from first aiders on the course and marshalling artefacts.
The leathers worn by Beryl Swain, the first female solo competitor in 1962, will also be on show, as will the Yamaha OWO1 ridden by Carl Fogarty, in the 1992 senior race - often regarded as the greatest ever TT race.
There will also be historic film footage from Manx National Heritage's archives.
Beyond bikes, the exhibition will also look at the histories of some of the buildings around the course.