Plea for Great Union Camera Obscura volunteers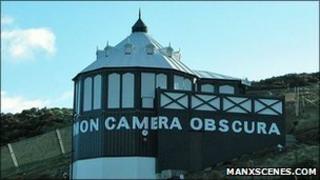 The Manx Victorian society is appealing for volunteers to help keep an historic island attraction open this summer.
The Great Union Camera Obscura, on Douglas Head, was built in 1892. It was restored by the government and re-opened in 2005.
It is one of only eight which remain in the British Isles and the only one with more than one lens.
The cameras project images onto walls in darkened rooms, with a pinhole and telescope lens.
The Douglas Head camera is open on Saturday afternoons, Sundays and bank holidays during fine weather.
It attracts about 2,000 visitors every season.
Peter Kelly, of the Victorian Society, said: "It would be nice to gain additional volunteers to ensure that this piece of our heritage continues to provide pleasure to locals and visitors alike for many years to come.
"The society has around 30 volunteers but a combination of reasons has resulted in fewer being available to help at the camera obscura this year.
"It's very rewarding to work at the camera obscura.
"People find it amazing. Children in particular are fascinated that it works with no computer and doesn't need switching on. It's just a mirror, a lens and sunshine."