Isle of Man lobster production could 'double'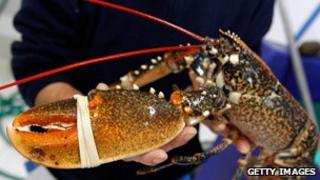 A new Manx fishing business could double the volume of lobsters produced locally, says the government.
The fish processing business, Lewis Seafoods, recently opened in Peel on the west coast of the Isle of Man
The enterprise, which has recieved support from the Isle of Man government, will create 5 new jobs.
A government spokesman said the inititive will see a doubling in the volume of lobsters processed.
MHK Tim Craine said: "It is great that the fish processing sector is in good heart and investing in the future."
Lewis Seafoods will open on Mill Road Yard which has been a traditional fish processing area in Peel for many years.
The business will use what is called, a vivier tank, which is designed to hold live lobsters until they are ready for market.
Clare Christian MLC said: "The fishing and fish processing industries play a valuable role in the economy of the island, and nowhere more so than in Peel.
"This project is an excellent example of how we can capitalise on the catch by transforming it into higher value produce."