PokerStars questions asked amid US legal action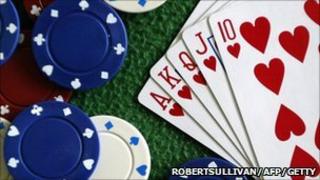 The situation facing a poker firm facing criminal charges in the United States has been discussed in the Isle of Man's House of Keys.
PokerStars is one of three gaming sites facing legal action in New York.
The Onchan-based company has "categorically denied" allegations of any wrongdoing in the US.
The firms face a civil complaint and 11 individuals are accused of bank fraud, wire fraud, money laundering, and illegal gambling offences.
In the May sitting of Keys, economic development minister Alan Bell was asked if there was any substance behind the criminal charges levelled.
Mr Bell responded: "I am not in a position to make comment on the question at this time and given the sensitivity of the issue it would be inappropriate of me to hazard a guess as to the motives of the US authorities in pursuing this action.
'Important employer'
"At the moment the gambling supervision commission has reconfirmed the licence of PokerStars which is a very important employer in the Isle of Man, employing some 250 people."
In a statement, PokerStars said: "The company categorically denies the allegations brought by the US Department of Justice on 15 April 2011 and is taking all steps necessary to robustly defend itself and the two named individuals.
"Meanwhile, the company has stopped offering real money poker services in the United States."
MHK Peter Karran has asked that the Isle of Man government be kept informed about all developments in the case.