WWII Dunkirk anchor made into war memorial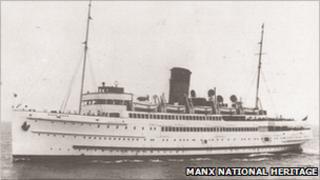 The anchor of a Steam Packet vessel sunk during the Dunkirk landings in 1940 will be made into a war memorial in the Isle of Man.
It has been decided the restored anchor from Mona's Queen will be sited at Kallow Point in Port St Mary.
The Mona's Queen was one of three Steam Packet Company ships lost during the Dunkirk landings in 1940.
Captain Hamish Ross said he was delighted the anchor has finally come home to the island.
He added: "The memorial will serve as a lasting reminder of a proud story in the Isle of Man's maritime history.
"It will tell of a sacrifice made by the men and ships of the Isle of Man Steam Packet Company and of the incredible success against all the odds of "Operation Dynamo".
Seventeen of the Mona's Queen 24-strong crew at the time were from the Isle of Man.
The vessel was coming into Dunkirk to take troops to safety when she was blown up by a mine.
The anchor was recovered near France in 2010 and later restored at Cammell Laird ship yard in Merseyside.