Tony Cook named as sidecar crash death TT biker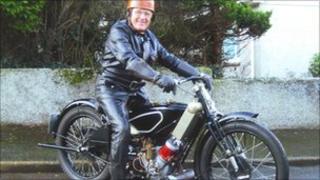 A 75-year-old TT veteran who died after his motorcycle and sidecar crashed into a parked car has been named as Tony Cook from Jurby.
Mr Cook, who was riding a Norton Classic motorcycle, died in the crash on Claddaghs Road, Sulby on 2 June at 1815 BST.
His male passenger, who was riding in the sidecar suffered head injuries.
The retired engineer began riding bikes at 16 and came fourth in the 1960 sidecar TT race.
In a statement his family said: "He moved to the Isle of Man 22 years ago having previously been a regular visitor for many years to spectate at the TT.
"He was a conscientious, safe rider who dedicated his free time for many years to training new riders to ride with safety in mind.
"Classic cars were his other love and he was the proud owner of a Rolls Royce Silver Shadow I."