Irish rider dies during TT racing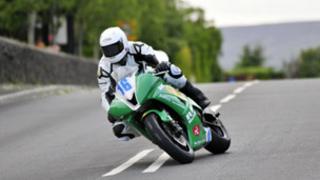 A rider from the Republic of Ireland has been killed during the first Supersport race at the Isle of Man TT.
Derek Brien from County Meath died following a high-speed accident at Gorse Lea on the Mountain course.
The 34-year-old was an experienced road racer who first competed in the Isle of Man in the Manx Grand Prix in 2004.
Managing Director of the Auto Cycle Union (ACU) said: "Derek was a very talented racer and achieved a number of notable career highlights."
The ACU said it wished to pass its deepest sympathy to Mr Brien's family and friends.
The coroner of inquests has been informed.