Vulcan bomber display over Douglas Bay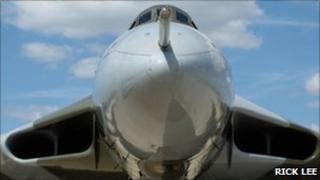 The last flying Vulcan bomber will visit the Isle of Man for an air display on the TT Senior Race Day.
The aeroplane, described as one of the most spectacular sights in British aviation, will fly over Douglas Bay at 1930 BST on 10 June.
The government hopes the event will draw huge crowds on the promenade.
Vulcan's chief pilot Martin Withers said: "She is a lovely aeroplane to fly because she is designed to outmanoeuvre fighter aircrafts at over 50,000 feet."
He added: "This time I will be on the ground watching the display, something I haven't done since the 1980s and I am really looking forward to see the plane flying low over the bay. It's quite a sight".
Nuclear bomber
Designed to be a high-level nuclear bomber for the Royal Air Force, the Vulcan XH558 first flew in 1952.
The aircraft was then purchased by a private investor when sold for scrap by the Ministry of Defence in 1992.
Since then renovation costs amounting to millions of pounds have been met by both by plane enthusiasts and a National Lottery heritage grant of nearly £3m.
It is thought the cost of flying the Vulcan from Doncaster for the Manx display will be about £8,000.
MHK Geoff Corkish said: "This iconic and much-loved aircraft is highly distinctive with the famous howl of her four Olympus jet engines, her sheer manoeuvrability and the sight of her magnificent delta wings climbing almost vertically into the sky.
"It will be a great treat for TT Races fans this year and we are grateful to the Vulcan to the Sky team for bringing her to the Isle of Man".