Rise in Isle of Man airport passenger numbers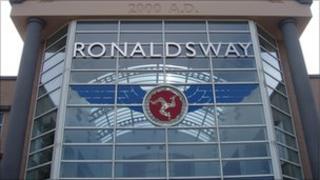 Five thousand more people travelled through Ronaldsway Airport in May compared to the same month last year, the Department of Infrastructure said.
Last month, nearly 59,000 people travelled through the airport.
In May 2010, the airport was dealing with the aftermath of European airspace being closed for six days due to an ash cloud from an Icelandic volcano.
There was concern ash from another volcano could affect flights this May but the disruption was minimal.
Airport director Ann Reynolds said: "We have all come a long way since the chaotic period in 2010 which crippled the European airline network.
"The industry as a whole has worked together to understand far more clearly the movement of volcanic ash and the effects of various densities of ash upon aircraft and aero engines.
"Therefore, everyone has become far better equipped to make rational decisions about when to fly and when not fly, without compromising safety in any way.
"The outcome during this May's volcanic threat is that there was very little disruption to our air service network, and hence we have been able to achieve a 9.5% increase in passengers."
'Optimistic future'
Overall, passengers numbers have increased by 5.4% - which is lower than expected.
The Isle of Man's infrastructure minister, Phil Gawne, said he was optimistic of recovery.
"All the indications are that business air travel is beginning to recover more quickly than leisure travel," he said.
"This provides some basis for optimism for the future, as many of the island's air routes have their economic foundation based upon business travel.
"Thus the business market is often the powerhouse for the retention and growth of key routes and, as leisure travel revives - and it will in time - we expect the passenger volumes to return."