Isle of Man TT: Police consider visitor safety advice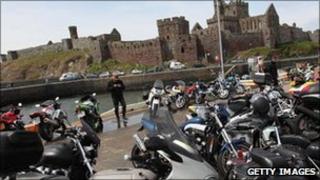 Police are considering giving visiting bikers road safety advice, after a rise in the number of fatalities during the Isle of Man TT festival.
Four motorcyclists and three TT competitors were killed during this year's event. Thirty-two members of the public were also seriously hurt.
Insp Mark Britton said it had been a very busy year and some crashes resembled "war zones".
Police said many of those killed or hurt were visitors to the island.
Insp Derek Flint said: "Speaking to colleagues, there was a different demographic this year.
"There was certainly a perception that there was a lot more first time riders here.
"The tremendous TT television footage and TT 3D may well be responsible for some of that and what we have got to do is look at that and see if we can follow that message up with appropriate road safety advice to visitors to try to keep them safe."
Initial police figures show there were 92 crashes during the 2011 festival.
In 2010, there was one fatality and 22 serious crashes during the TT fortnight.