Government says TT generates millions for economy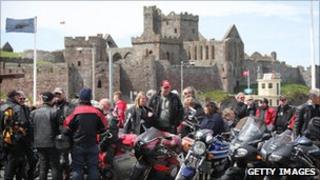 New figures show the 2011 TT generated around £20m profit for the island's economy.
Minister for economic development Alan Bell said the festival cost around £3m to run and brought in more than £23m.
Mr Bell said he ordered a full audit of the figures in an attempt to prevent what he called government "window dressing".
He added: "We can't fool ourselves anymore as to the true value of what these activities really are," he said.
The world-famous annual motorcycling event which takes place in June attracted 37,700 visitors, an increase of about 22% from last year.
Air passenger figures rose by about 13% and ferry passengers up were up by 6.7%.
Mr Bell said: "The nice thing about TT this year is that many visitors came much earlier in practice week and that has helped all the businesses, and it has created more employment.
"It provides a profit cushion for many of the retail businesses, which at other times of the year, will be struggling."
Isle of Man police figures for 2011 show that four motorcyclists were killed on open roads during the TT festival and 32 people were seriously.