Isle of Man raises concerns with UK Treasury about VAT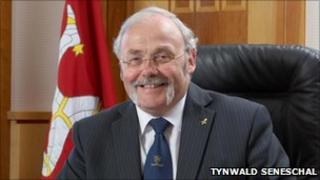 Isle of Man ministers have raised concerns with the UK Treasury over the future of VAT tax-sharing.
Informal talks took place at a meeting of the British Irish Council in London, on Monday.
In 2009, the UK changed its Revenue Sharing Agreement (RSA) with the island leaving the Manx economy with £140m hole in its budget.
"Whilst our economy is doing well it is small and potentially vulnerable," Chief Minister Tony Brown said.
"What we are trying to get through to them is that we are an important and integral part of the British economy and therefore, they benefit from our success".
Since the changes, the government has implemented a five-year plan to ensure finances are stabilised.
The cuts have, so far, included civil service redundancies and a rise in income tax.
During Monday's meeting, which draws together delegates from the UK and other Crown dependencies, Tony Brown said Manx Treasury Minister, Anne Craine was able to talk to UK Deputy Prime Minister Nick Clegg, who hosted the conference.
Mr Brown said the UK is now well-aware of the island's concerns.
"We are continuing to make sure that, at a political level we can take advantage of these opportunities to ensure that the political contacts are strong so that whatever happens we are in a position where we are able to make representation as appropriate," he said.
"If anything comes up, it is always easier if we know our political contacts on first name terms."